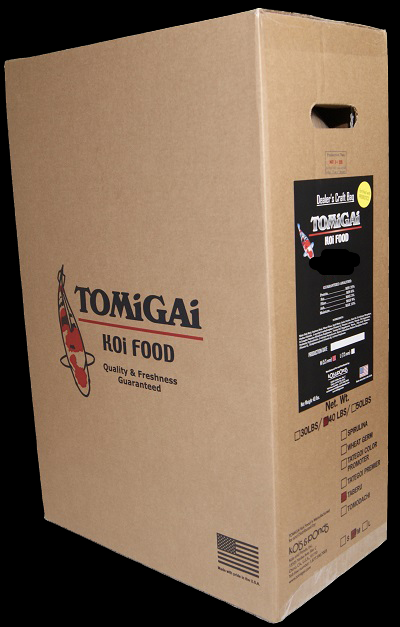 While Wheat Germ is more popularly known to be fed during the colder season, the TOMiGAi Variant of Wheat Germ is best used for the growing season.  In addition to boasting a 50 % minimum protein content level, the main source protein source is White Fish Meal.  The TOMiGAi Wheat Germ is part of the TOMiGAi Premium Growing line, and promotes maximum growth potential as well as the proper development of a Koi's conformation and size.  Due to the fact that growth is best achieved in the months wherein temperatures are high, TOMiGAi Wheat Germ is best used during the warmer months of the year when temperatures are between 68 and 80 degrees Fahrenheit.
TOMiGAi Koi food is formulated in conjunction with the Japanese experts on Koi, this product boasts cutting edge formulation direct from Japan and enjoys the endorsement of such prominent names in the Koi industry such as Sakai, Dainichi, Marudoh, Omosako, Isa, Seitaro, Gonjiro and Tani among many others. Now, Kois & Ponds Inc. Proudly brings TOMiGAi Koi Food to the United States of America.
ToMiGai Koi food is packaged through the Nitrogen gas rush packaging method. Oxygen, which shows to be a primary cause of spoilage, is eliminated from the bag, thereby submitting the bag of TOMiGAi Koi Food to a vacuum stage then we go one step further by pumping Nitrogen inside. Nitrogen gas is proven to maintain quality and freshness of food for prolonged periods of time,and because contents are allowed to move freely within the bag, the integrity of the shape and form of ToMiGai Koi Foodis maintained. To ensure that moisture levels are kept at a minimum, desiccant is added.
Ingredients:
White Fish meal, Fish Meal, Wheat Whole, Soy Isolate, Wheat Germ Meal, Flour, Soybean Meal, Shrimp Meal, Squid Meal, Garlic Powder, Fish Oil, Vitamin Premix (Vitamin E Supplement, Ascorbic Acid, Inositol, Niacin Supplement, D-Calcium Pantothenate, Pyridoxine HCL, Riboflavin Supplement, Vitamin K (MSBC), Thiamine Mononitrate, Folic Acid, Vitamin A Supplement, Biotin, Vitamin D3 Supplement, Vitamin B12 Supplement), Trace Minerals, L-Ascorbyl-2-Polyphosphate, Choline Chloride, Calcium Propionate, ADM Bacillus
Protein...................................................Min 50 %
Fat..........................................................Min 6%
Fiber.......................................................Max 3%
Ash.........................................................Max 12%
Moisture.................................................Max 10%