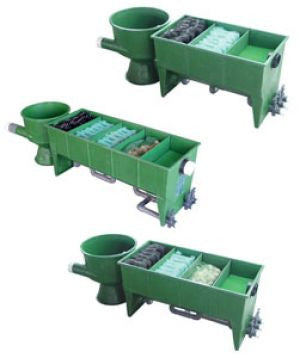 Osaka Vortex 5 Chamber 90x24x27
Pond Size 4227 gal
Flow rate 2114 gal/h
Call For Shipping Rates
FRP Filter Tank is not a new product in Europe. It has been marketing in Europe for more than 10 years, and became one of the most popular biological filtration system adopted by hobbyists for their Koi ponds.
A special manufacturing system that is union of handicraft and technical process are implemented to make every piece of our Tanks meticulously. You'll find all our products are both structurally and aesthetically sound.
We would like to introduce this effective, low operating cost, easy maintenance and user friendly filtration system to Koi hobbyists and breeders in North America an option to provide cleaner and healthier water for their precious pets.
Solid FRP (Fiberglass) Filter-Tank with various capacities.

Tanks are coated with UV protection for outdoor installation.

High efficiency biological filtration system with minimum/easy maintenance.

Both Pump fed-in water and Gravity fed-in water types are Available.

Bottom drainages with valves for individual segments (selected types).

Low operating cost. Easy DIY installation.