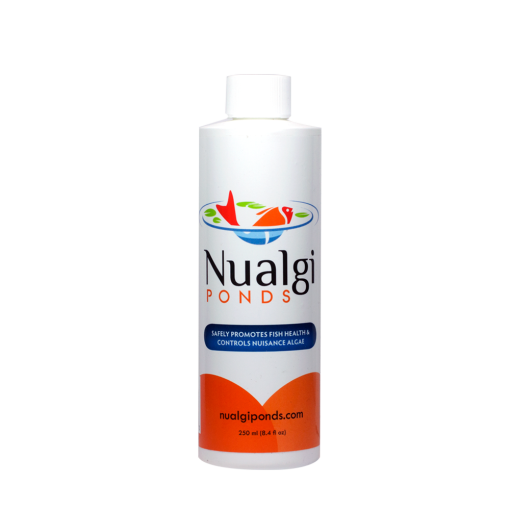 An innovative approach to improving pond balance, Nualgi Ponds™ is built on a nano silica base with our patented formula of 12 essential elements that safely help restore the natural balance, improve water quality and control nuisance algae.
Engineered specifically to benefit the health of your aquatic plants and fish, Nualgi Ponds™ is easy to use, efficient, and yields rapid results.
---
Nualgi costs compared to Bacteria Enzymes and other products.
Nualgi Ponds 
Safe. Simple. Effective.
$

1

/5,000 gal of treated water
Combats Nuisance Algae
Safe Without Constant Aeration
Safe for Fish, Shrimp, and Crustaceans
Safe for Healthy Bacteria & Enzymes
Classified as Nontoxic
Improves Biological Filtration
Increases Nutrient Bioavailability
Delivers Live Food for Fish
Provides Nutrients for Aquatic Plants
Bacteria/Enzyme Products
$

10

/5,000 gal of treated water
Combats Nuisance Algae
Safe Without Constant Aeration
Safe for Fish, Shrimp, and Crustaceans
Safe for Healthy Bacteria & Enzymes
Classified as Nontoxic
Improves Biological Filtration
Increases Nutrient Bioavailability
Delivers Live Food for Fish
Provides Nutrients for Aquatic Plants
Copper Sulfate (Algaecides)
$

20

/5,000 gal of treated water
Combats Nuisance Algae
Safe Without Constant Aeration
Safe for Fish, Shrimp, and Crustaceans
Safe for Healthy Bacteria & Enzymes
Classified as Nontoxic
Improves Biological Filtration
Increases Nutrient Bioavailability
Delivers Live Food for Fish
Provides Nutrients for Aquatic Plants