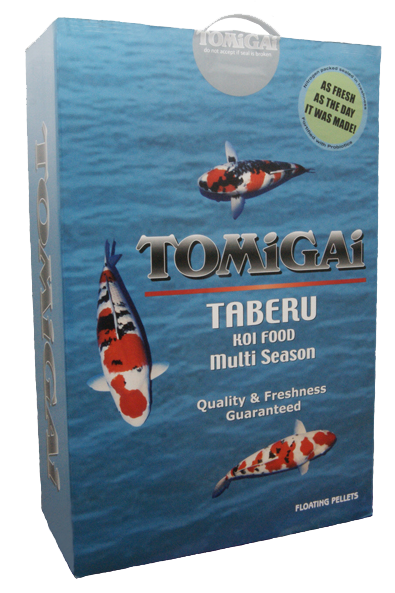 TOMiGAi Koi food is formulated in conjunction with the Japanese experts on Koi, this product boasts cutting edge formulation direct from Japan and enjoys the endorsement of such prominent names in the Koi industry such as Sakai, Dainichi, Marudoh, Omosako, Isa, Seitaro, Gonjiro and Tani among many others. Now, Kois & Ponds Inc. Proudly brings TOMiGAi Koi Food to the United States of America.
ToMiGai Koi food is packaged through the Nitrogen gas rush packaging method. Oxygen, which shows to be a primary cause of spoilage, is eliminated from the bag, thereby submitting the bag of TOMiGAi Koi Food to a vacuum stage then we go one step further by pumping Nitrogen inside. Nitrogen gas is proven to maintain quality and freshness of food for prolonged periods of time,and because contents are allowed to move freely within the bag, the integrity of the shape and form of ToMiGai Koi Foodis maintained. To ensure that moisture levels are kept at a minimum, desiccant is added.
TABERU: ALL SEASON
Taberu is considered to be the staple food in the TOMiGAi Koi food line. It contains a minimum of 35% protein, which is usually used in conjunction with the other TOMiGAi Koi food variants and may be fed all year round. Because lower temperatures prohibit your Koi from properly taking in all the nutrients from their food, the lower protein allows the Koi to get the maximum amount of protein their bodies may absorb with minimal waste.
Guaranteed Analysis:
Protein.............Min 35%
Fat.....................Min 6%
Fiber.................Max 5%
Ash...................Max 9%
Moisture...........Max 10%
Ingredients: White fish meal, soybean meal, wheat flour, squid meal, garlic powder, fish oil, di calcium phosphate, choline chloride, L-ascorbyl-2-polyphosphate (vitamin C), vitamin A Acetate,, Vitamin D3 supplement, B Complex vitamins (riboflavin supplement, vitamin B12 supplement, niacin, folic acid, thiamine, pyridoxine hydrochloride, d-calcium panothenate, biotine), menadione sodium bisulphote complex (vitamin K), DLAlphatocopherol (vitamin E), calcium propionate.